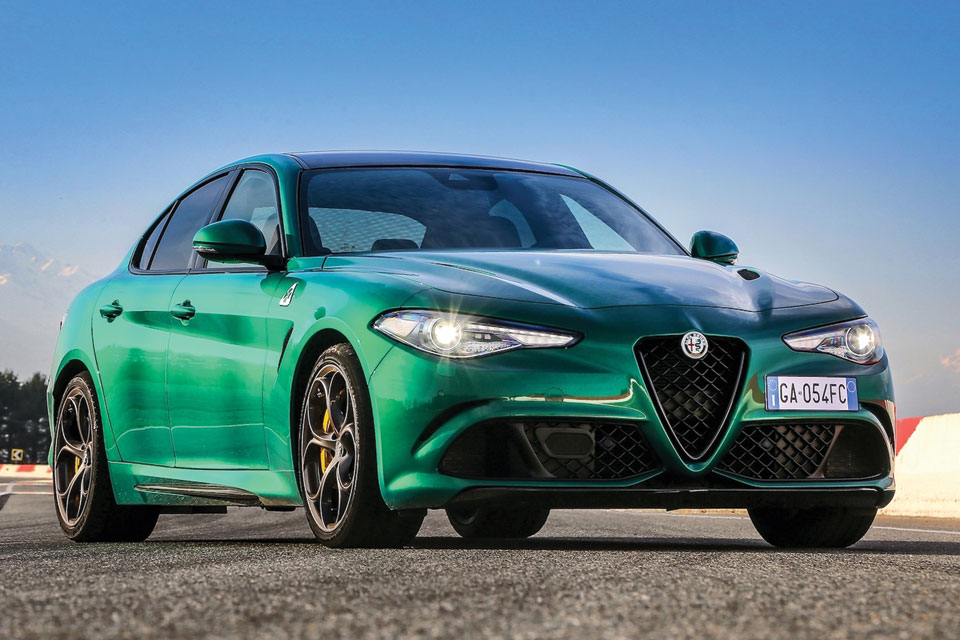 There are only a handful of real high-performance luxury SUVs on the market.  Now I have not driven all the members in this category, but of those I have come to know, this is my favorite.  The 2022 Alfa  Romeo Stelvio Quadrifoglio is the real deal among a fleet full of many charlatans.
But first understand that Alfa Romeo is lying.  Even though they describe the Quadrifoglio as an "SUV," nothing about this remarkable vehicle feels SUV-like. This is a sports car that just happens to have a taller body and back seats.
Alfa Romeo did not want to miss an opportunity to make this Stelvio crossover into a performer. When they updated the Stelvio in 2020, they wisely left the powertrain alone. The 2022 Alfa Romeo Stelvio Quadrifoglio is quicker than the V8 powered Mercedes and Jaguar entries.
Alfa constructed the Stelvio Quadrifoglio small luxury SUV to appeal to those of us who have a driving spirit. Driving dynamics are baked into every version of the Stelvio, which wears a distinctive look that sets it further apart from its rivals. When you first see it or hear it, you will know that the Stelvio is different.
Press the red starter button and this Alfa Romeo's primary purpose is quickly realized. The 505-horsepower, 2.9-liter twin-turbocharged V6 springs into life and propels this all-wheel-drive SUV to 60 mph in only 3.6 seconds.  It exists to give you a thrill.
In addition to its stylish unique good looks and the performance from the 505 horse V6, it is balanced out with an eight-speed automatic transmission that intuitively always seems to be in the right gear and, if it isn't, there are large column-mounted paddle shifters at the ready to retrieve the gear you want.
With its sharp steering and precise handling, Alfa's reputation for agile, athletic chassis tuning remains firmly intact. The Q4 all-wheel-drive system increases your confidence. Under normal driving, all the available power is directed to the rear axle, with up to 60 percent sent to the front when absolutely necessary.  A powerful Brembo braking system efficiently brings the SUV to a stop from the high speeds it is capable of reaching.
The 2022 Stelvio Quadrifoglio has a few issues that are evident due to being categorized as an SUV, even though it has exciting driving mechanics and exotic Italian design.  Due to its size, the cargo area is smaller but who cares.  Compared to SUVs with a coupe-like styling, the Stelvio suffers no utility penalty. It also doesn't look particularly luxurious from the driver's seat, a function of its driver-focused purpose.
Some competitors also offer more sophisticated technologies. But if you're a driving enthusiast with a strong sense of individualism, and you'd rather not own the same boxy compact luxury SUV everyone else does, the 2022 Alfa Romeo Stelvio Quadrifoglio with its iconic grill and its MSRP of $86,245 is a class leader.