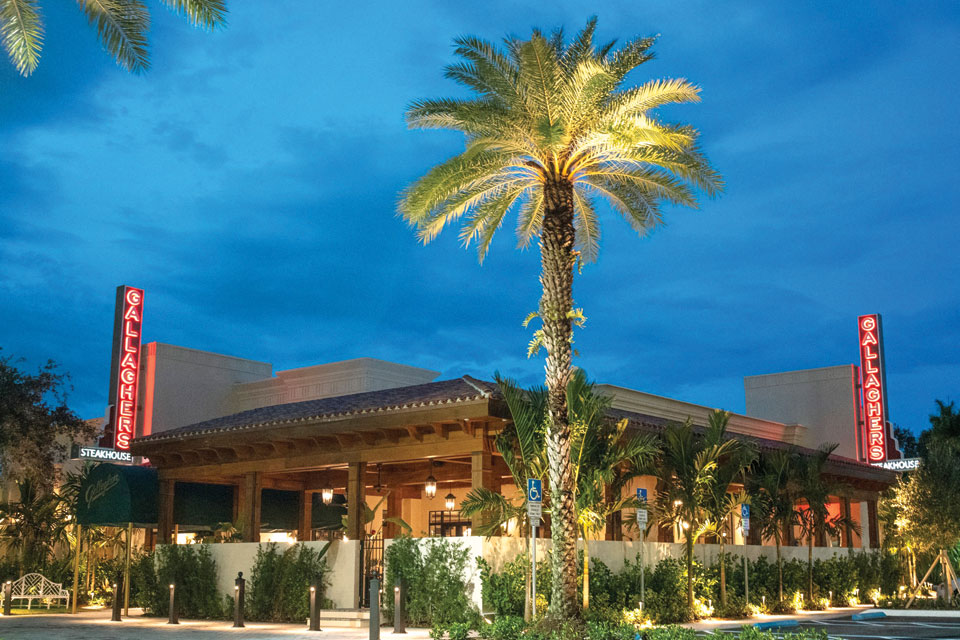 An iconic New York City steakhouse has opened in Boca Raton, Gallagher's Restaurant. Like the original steakhouse in Manhattan's Theater District, where a steak-filled meat locker is proudly displayed in the storefront window, the Boca Raton Gallagher's also showcases its steak locker. It stands inside the restaurant and dry-ages meats for 21 days and longer and cuts them into portions on site.
When it comes to steaks and chops, the Boca and New York menus are basically the same. An amazing porterhouse is served sliced and presented with the bone. New York sirloin is offered whole or bone-in and sliced. Add to that filet mignon, rib steak, lamb chops and rib veal chops, and prime rib roast.
A variety of grilled or broiled fish, Maine lobster and jumbo shrimp are also on the menu. As for house specialties, they are the same in Boca Raton as they are in New York: grilled half-chicken, veal parmigiana and stuffed jumbo shrimp.
Boca's raw bar menu is a bit more global, adding red snapper and tuna crudos, Hamachi carpaccio and spicy tuna poke to the list.
There are a variety of sides and, from our own personal experience, extremely large enough to share.
The kitchen is in the hands of Gallagher's longtime executive chef Alan Ashkinaze, who moved to Boca Raton to lead the location's culinary team.
The restaurant opened in July for dinner, and recently opened for lunch seven days a week. The lunch menu features a large variety of items from appetizers, soups,
salads, sandwiches, and entrees. They also offer a three-course lunch meal featuring a selection of appetizers, entrées and desserts. It is one of the best menus I have seen for lunch, and I am looking forward to another visit to Gallagher's specifically for lunch.
The restaurant's decor pays respect to Gallagher's 1920s founding. The walls at the new steakhouse are lined with framed vintage photos that chronicle Gallagher's history, the stars, athletes and politicians it has hosted and echoes of its early years.
The restaurant includes a 200-plus-seat dining room, a large horseshoe-shaped bar, and patio seating for another 100 diners.
It is located at 2006 NW Executive Center Circle, just north of Glades Road and west of Military Trail in Boca Raton.