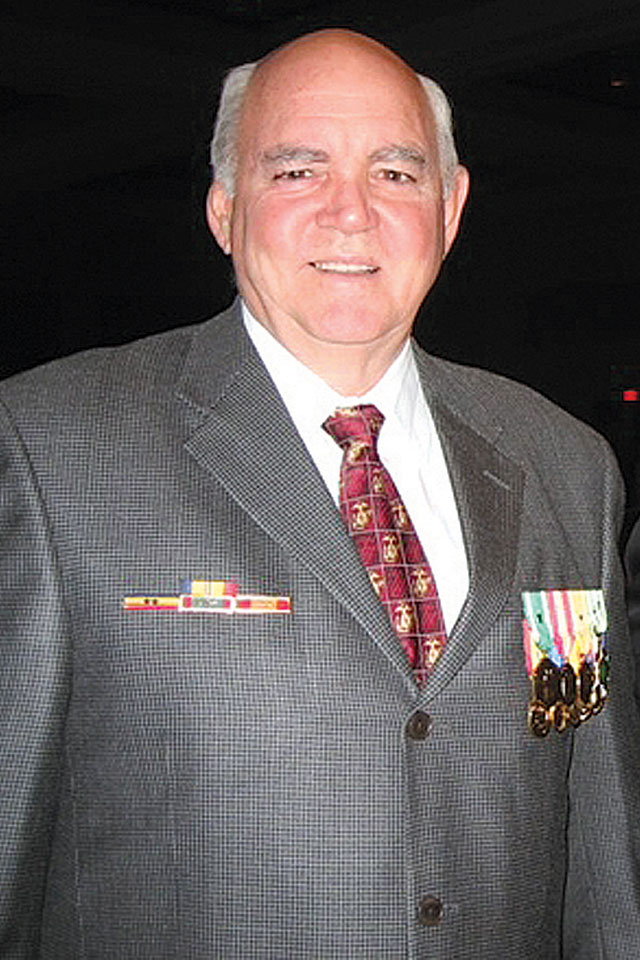 One year may seem insignificant when compared to a lifetime but when that year was 1968 in Vietnam, during the most intense period of the War, then one year can influence a person for their In Kevin Bolender's life, that year spent as a Marine on the ground resulted in experiences that altered the entire course of his life. Those experiences resulted in a life devoted to family, faith, career and giving back. Kevin Bolender is obviously a man of action, which shapes his manner of giving back as well. His story is apropos as the City of Fort Lauderdale recently was the home for the commissioning of the USS Fort Lauderdale LPD 28. This ship represents the latest naval technology for the LPD class vessel that will be used to transport Marines and equipment into conflict wherever they are needed in the world.
Kevin was born to be a Marine. He hails from a family that has a proud heritage five generations deep in service to our country in the Marine Corps. That service goes as far back as his Uncle Leo who served in the Corps during World War I. It continued with his father Ted's service during World War II in the Pacific Theater assigned to Aero Squadron 114 and continued with Kevin, his two brothers and his son Christopher. Christopher served 4 years in the Navy and 10 years in the Marine Corps, achieved the rank of Captain and was deployed to Afghanistan, Japan, Korea and on other special missions around the world. This is a proud family that has served our country with distinct honor for generations and they are, in my opinion, Pioneers of South Florida and of Broward County.
Kevin Bolender was born in Philadelphia, PA and along with his six brothers and sisters relocated to Ocean City, NJ at a very early age. Like many WWII vets who had trained in the South, his father relocated the family to Florida in 1955. In my world, that makes them Pioneers. Kevin attended St. Clement Elementary School in Wilton Manors and moved on to Cardinal Gibbons HS where he became a football and basketball jock. He became Captain of the football team in his senior year, a character trait that would become Kevin's way of always becoming a leader. After Cardinal Gibbons, he moved on to attend Belmont Abbey College in Charlotte, NC. This was during the late 1960s and the Vietnam War was kindling in the far east. Kevin heard his family call to duty just like his ancestors before him and he left school to join the Marine Corps in 1967. If you are old enough to recall, or if you are a history buff, then you will remember that 1967 through 1969 were the most intense years of combat in Vietnam. Kevin would be inserted right into the middle of that intensity as soon as he was deployed, as they say, "In Country."
The year 1968 became the year of changing developments in Vietnam. The military operations started with an attack on a US base by the North Vietnamese People's Army of Vietnam (PAVN) and the Viet Cong (VC) on January 1, ending a truce declared by the Pope and agreed upon by all sides. At the end of January, the PAVN and VC launched the famous Tet Offensive. Kevin found himself right in the middle of these major developments. 1968 was the most intense year of fighting and troop escalation. The USA, under President Lyndon Johnson, deployed 549,500 troops to Vietnam. That year the PAVN lost 27,915 soldiers and the USA lost 16,592. The war had escalated to tragic levels regarding loss of human life. During that time, Kevin deployed on over 300 combat patrols and was by the grace of God able to return home safely having achieved the rank of Sergeant E5. Back home, he was awarded the Navy Marine Combat Medal (Combat V) for bravery under fire. During a patrol upon which his unit was protecting a communications tower and two tanks, one of the tanks took heavy rocket fire which disabled the vehicle. All but one tank force member was able to escape. The remaining soldier was injured and could not get out of the tank. Kevin, under fire, ran to the tank, jumped inside, pulled out the wounded soldier, dragged him to safety, and was able to call in medical evacuation in order to save his life.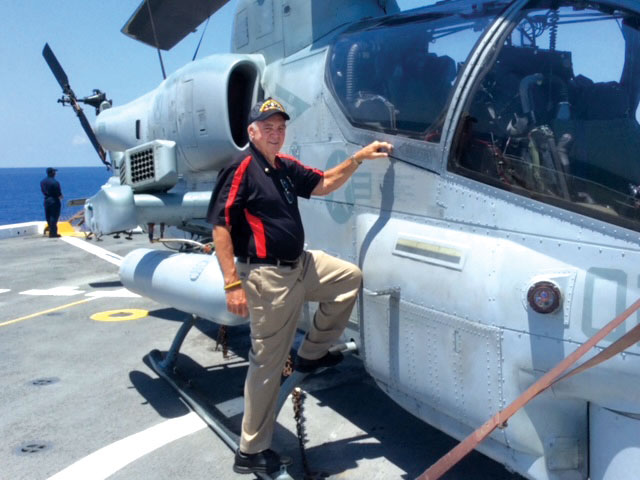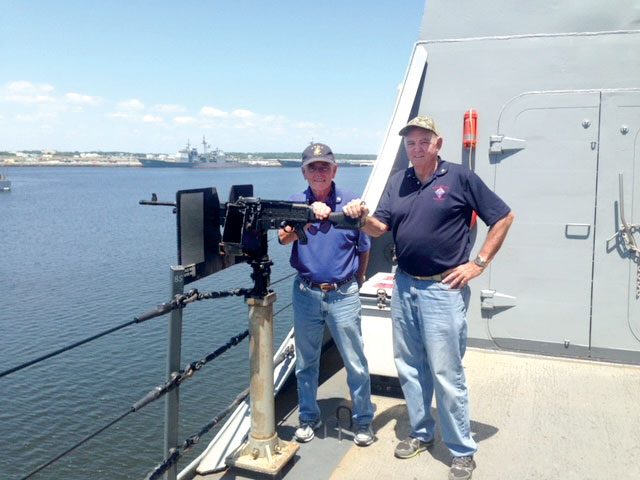 You may be wondering what this all means to Giving Back. It means everything. When he returned from Vietnam, Kevin devoted his life to being a wonderful husband, father and resident of Broward County, but most important to serving those members of our community and his Marine Brothers for the remainder of his life.
Like many returning combat veterans, and our comm-unity has many, Kevin focused on what was good in life. He married the woman he met during a surfing trip to Daytona years before the war and before joining the Marines. It is a classic love story. They met, Kevin was smitten with her persona and beauty, and during his time in Vietnam, she was the person that could offer him stability and hope for a successful return.Remember, these were the days before cell phones and internet. Hand written letters were the norm. They came often in groups after long periods of silence due to the inability of the postal system and the Government's need to sensor what was being sent back home. Upon his return they re-engaged, married, had three children and settled in Fort Lauderdale. They are still happily married. The woman that hit Kevin with the "Sicilian Thunderbolt" was Mary Jaz. Mary's family was from the Ukraine, fled to France to escape Communism, and ultimately moved to Montreal. During one of her vacations in Daytona Beach, she met a handsome South Florida Surfing Dude named Kevin.  The rest is history.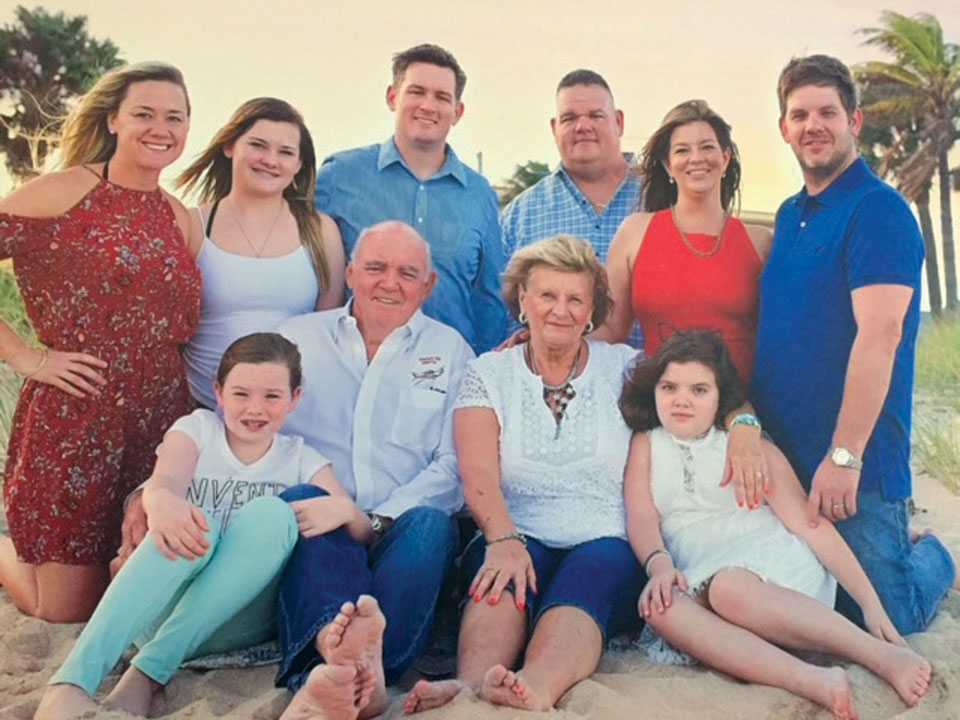 Kevin went on to build a successful General Contracting Business in Broward and in 1980 decided to open a hardware store. Many of our readers will remember Executive Hardware which opened in 1980 on 31st Avenue and Prospect Roads and later, in 1994, moved to Powerline and McNab Roads. Executive Hardware was one of the largest in the area serving the Fort Lauderdale and Pompano Beach Communities for 42 years. Kevin also used his benefits from the Marine Corps and learned to fly aircraft by obtaining his Pilot license in 1973. Like most of what he undertakes, he indulges himself and moves to a leadership position. Kevin swiftly moved from Private Pilot to Commercial Pilot to Multi Engine Instrument Flight Instructor where he taught many of our Broward County Residents to fly at the Learn to Fly Aviation Center in Pompano Airpark.
What defines a person is usually summed up in four words, Faith, Family, Career and Community. In Kevin's case none were overlooked and all received his unwavering attention. Our focus is his commitment to Community and Giving Back. They say a Marine never forgets his brothers and this Marine is a living testimony to that creed. Kevin has devoted his time, energy and financial support to all of his Veteran Brotherhood and has also found time to offer the same to his community both in business and, due to his faith, the less fortunate. To that end, he has a long list of achievements starting with his never-ending love for Cardinal Gibbons HS. He has served as a member of the "Chain Gang" for the football team for over 30 years. In our business community, he has been a member of the Fort Lauderdale Executives Association since 2000, serving as President. Where Kevin really shines is in his service to Veterans Affairs. He has been a member of the Marine Corps League for 20 years, serving as its Commandant for three of those years. He has been a member of the Pompano American Legion Post 142 for 20 years and, during that time, served on the Executive Board. In addition to the Legion, Kevin is a member of the DAV Post 133 where he volunteers on a weekly basis assisting veterans in obtaining their VA benefits by helping them navigate the bureaucratic paperwork process. His love of flying has allowed him to serve in the VAC (Veterans Air Command), which is a volunteer organization that flies wounded veterans from home to medical facilities to receive care in their own private plane. Recently, he was selected by the United States to serve on the DAV Honor Guard in Washington, DC. This was a great honor for Kevin as he as a Vietnam Vet escorted WWII vets on South Florida Honor Flight honoring their service. Yes, it was that one year long ago in a far-away place that shaped the life of a young man to the benefit of the citizens of Broward County. Thank you, Kevin, for your service and for your commitment to our community.