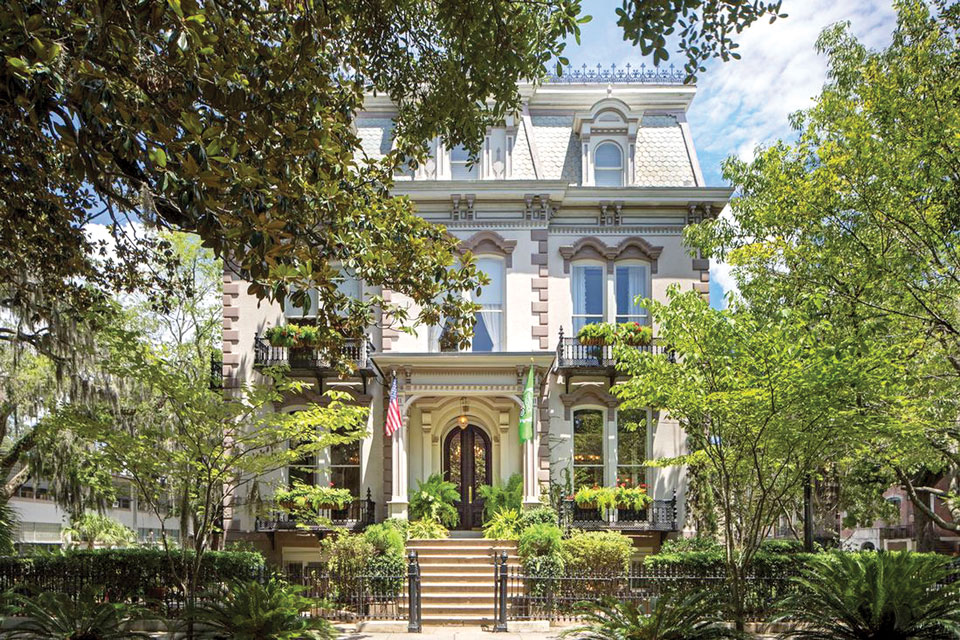 Guests of Hamilton-Turner Inn will encounter warm Southern hospitality no matter what they do in and around the Savannah Historic District. This Savannah, GA bed and breakfast sits on beautiful Lafayette Square. Hamilton-Turner House was built as a mansion for the home of successful businessman Samuel Pugh Hamilton in the square in 1883.
It then became the romantic and highly regarded inn. Also on the square, the Andrew Low House was built for Englishman Andrew Low in 1849. Andrew's son, William, married Juliette Gordon Low, the founder of the girl scouts. The National Society of Colonial Dames now owns the house, and it is open to the public as a museum.
The inn has 17 rooms that are individually designed, with touches that vary from 11-foot windows and antique four-poster beds to walk-in showers or slipper tubs. Every stay will be different, as no two rooms are the same. The inn also has a separate carriage house with three bedrooms and three baths.
The inn is known for its Southern hospitality with around-the-clock, personalized service that has been recognized by distinguished media outlets including Travel + Leisure, Trip Advisor, Fodor's Travel, and Forbes Travel Guide.
Hamilton-Turner Inn serves a full breakfast, afternoon snacks and evening wine and hors d'oeuvres.
For lunch, dinner and cocktails, the bed and breakfast is within walking distance to a number of exceptional restaurants in and around the historic district including the famous Olde Pink House Restaurant.
When you're ready for adventure, discover the secrets of one of the most beautiful cities in America while experiencing the culture of the area at regular festivals, gallery openings, sporting events, and outdoor adventures that welcome tourists and residents alike.
Savannah, a coastal city, is separated from South Carolina by the Savannah River. It's known for manicured parks, horse-drawn carriages, and antebellum architecture. Its historic district is filled with cobblestoned squares and parks such as Forsyth Park shaded by oak trees covered with Spanish moss. At the center of this picturesque district is the landmark Gothic-Revival Cathedral of Saint John the Baptist.
There are many ways to see the sights of Savannah including Savannah Riverboat Cruises and Old Town Trolley Tours.History buffs swarm Savannah, taking in the rich, significant sites like Old Fort Jackson, Fort Pulaski National Monument and Bonaventure Cemetery. Fashionistas shop Broughton street for high-end designs, and foodies crave specialties in gourmet shops. Art lovers enjoy the renowned Telfair Academy and the SCAD Museum of Art, as well as an eclectic variety of art galleries and home decor shops.
Photo Gallery Of
Savannah, Georgia