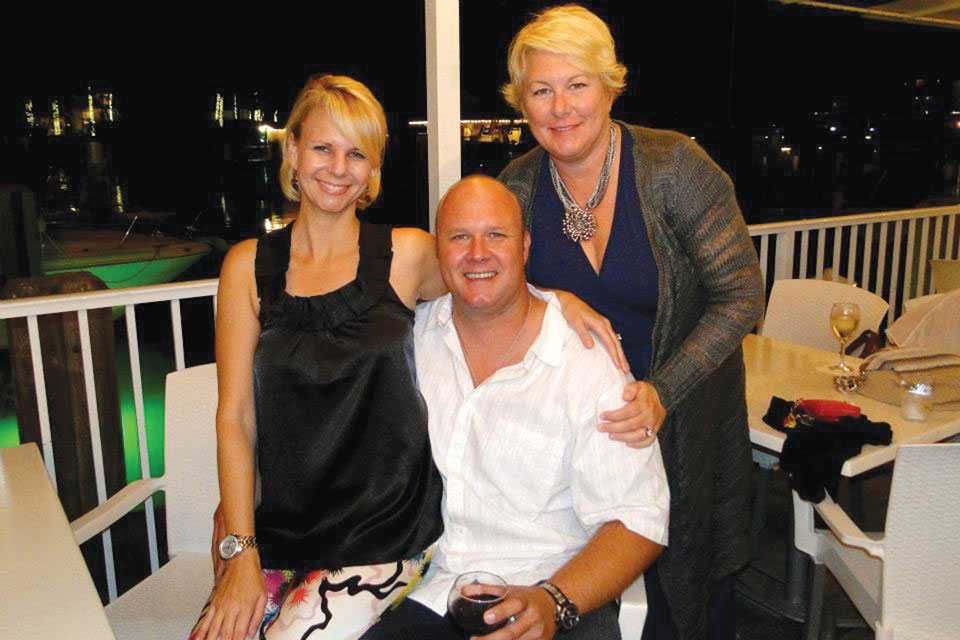 As a practicing architect I am intimately acquainted with the challenge of trying to create places that enhance social activity, enrich lives, foster relationships and in simple terms allow us to recreate. In our professional world we call this making the "there, there." However, in reflecting on the history of our So Flo community, I have learned that the challenge of making places to enhance the lives of our residents is not the sole province of architects and planners. In fact, most places within our community that enrich our lives every day were evolved by pioneers, citizens and families that understood the concept that business success demands civic responsibility. This is what I call Giving Back. This month I am going rogue and not profiling an individual. I am offering a shout out to a family across multiple generations. I bring to you the Spieker Family of Lighthouse Point.
This family has given the residents of Lighthouse Point a place that exudes the there, there. We all know it as The Lighthouse Point Marina, Tillotson Square and what is now colloquially referred to as the Marina District. It is a magical place that attracts locals, people from neighboring cities and counties and even folks who travel from other states. It has a charm and ambiance that unravels the psyche and appeals to each of us in a different way. To some it is the Bahamas, others New England, but to all it always enhances social activity, enriches lives, and fosters relationships. This year is the first time the gavel of ownership has passed outside of the family. This passing of the gavel is a milestone that we, as a community, must honor. This article is a testimony to the dedication and hard work it took for the Spiekers to create the Marina District. It is also a testimony to their tireless contribution to so many community organizations.
The story begins as a tale of two people from two different cities in Wisconsin who met in Fort Lauderdale. Perhaps an appropriate name for their history would be a tale of three cities. The individuals are Don Spieker and Mary Kopmeier. Don, an innate entrepreneur and businessman with a love of building and racing boats, and Mary, a devout Catholic with aspirations of becoming a nun but never quite reaching the point of taking her "vows." Don traveled to Fort Lauderdale for a sporting goods trade show that was related to his employment. Mary, after leaving the convent, moved to Fort Lauderdale to attend secretarial school. The year was 1962. They met by chance when Don, who arranged a date with Mary's roommate who failed to show up, asked Mary to accompany him instead. So began a lifetime romance, a marriage, and five children that would ultimately impact the lives of our residents for generations. They were married in Milwaukee in 1963 and, never forgetting their love of South Florida, decided to move here and make a go of it. Don loved boating and boat design (he invented and held the patent on the rooster tail for ski boats) and in 1966 he convinced Mary's parents to help them finance the acquisition of the Lighthouse Point Yacht Basin. Thus began the evolution of this little boat basin from a few dozen slips to the only major yacht marina between Pompano and Palm Beach. Today, it comprises over 100 slips for boats as large as 80 feet, complete with commercial activity, a destination restaurant, and the finest townhome development in the region. This transformation took 34 years, during which time Don and Mary fostered five children, Debbie, Doug, Maureen, Kevin and Christian. They also made a vow to each other and their children that with business success came civic responsibility. They believed that the greatest gift is in giving, not receiving.
Civic responsibility became the family mantra. Mary, while raising five children, also earned a nursing degree from Broward College. A degree that she could combine with her devout Catholic beliefs and use to help her community both morally, spiritually, and medically. Little did she know that she would ultimately strengthen her resolve by helping others so that she was able to confront one of the greatest tragedies a mother could experience. She lost two of her sons to accidental deaths, Kevin in 1974 and Doug in 1981. Her faith in God and her talent as a nurse led her to become involved in the Children's Home Society and to volunteer at the Lorraine Thomas Family Support Center. Her efforts were in support of teenage moms who needed support and a break from the difficulties of life. Her three remaining children, Debbie, Maureen and Christian often recall their mother bringing home pregnant teenage woman and caring for them until they gave birth. Mary also became an active member in the Junior League of Fort Lauderdale.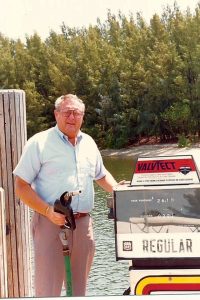 Don Spieker, on the other hand, was a community dynamo. After selling his rooster tail patent to Cypress Gardens, he became involved in the Pompano Beach Chamber of Commerce and the Rotary Club. In each organization he gave time and treasure and "rose to the top." At the Chamber, he became President and in 1983 he was named "Man of the Year." The Rotary was his real passion. At Rotary he served as a Member, President, Director, Director Governor, and International Representative. In fact, he never missed a meeting in his 34 years of involvement. Additionally, during his 32 years as President of the Lighthouse Point Marina, he served for 10 years on the Nova Southeastern University Higher Education Authority Board, 26 years as a member of the Fort Lauderdale Executives, where he also served as President, four years on the Board of United Way, and many years in support of local media by being on the Boards of WWHR 98 AM Radio and Director of Channel 2 WPBT. His accomplishments did not go unnoticed by our elected officials, and Governor Graham nominated Don to the North Broward Hospital District where he rose to Chairman of the Board and he was also appointed to the State Hospital Containment Board and the Board of John Knox Village. Did I mention he was a dynamo in the world of Giving Back!
During their entire marriage, both Don and Mary developed a love for the mountains of North Carolina. This resulted from bringing their children to summer camp. In 1997, they decided it was time to pass control of the operation of their beloved Lighthouse Point Marina to their children. Debbie and Christian were still local, but Maureen was off to California to foster her professional career. Debbie and Christian coerced Maureen to return home and assist them with taking the Marina to the next level. Maureen was up to the challenge. All three of them decided that it was essential to honor their parents' legacy of Giving Back as they also adopted the slogan, "with business success comes civic responsibility." They each managed to achieve great success in numerous community organizations, while advancing the Marina to a distinguished place within the community.
Their concept was to create a wider community that would involve residences, businesses, and an expanded infrastructure to bolster the existing residential community adjacent to their property. They formed DMC Development, Inc., (Debbie, Maureen, Christian) and commenced the planning of a 21 Fee Simple Townhome Community on the adjacent vacant property to the west. Additionally, they would upgrade marina structures to house boating oriented businesses and a restaurant. All of this would replace a vacant lot which was their childhood playground. Their vision was a colorful community of "Old Florida Caribbean" architecture that would offer all visitors a taste of the cruising lifestyle from menu to view and ambiance. Thus was born Tillotson Square and the Nauti Dawg Restaurant forming the foundation of what is now referred to as The Marina District. This development expansion provided over 50 new jobs for Lighthouse Point. Jobs that provided opportunity to local teenagers as well as military veterans. Unfortunately, Don never lived to see the full success of the district we know today. He passed away in 2001. Mary continued on and spent most of her time at her beloved home in North Carolina until she recently passed in 2022. The children, however, are walking tall in their shoes.
Maureen continued with her Father's love of Rotary. After he could no longer serve, she stepped up. As she states, "involvement in Rotary has taught me a great deal about life." She learned that the greatest gift is in giving, not receiving. Ringing the bell for the Salvation Army at Christmas, raising dollars for hurricane victims, and hosting Brave Kids Holiday parties are what has driven her to achieve the honor of becoming the recipient of a Presidential Citation as well as Rotarian of the Year. Today she is teaching her children the value of being a Rotarian. For Maureen, this was just the beginning of Giving Back to her community. As a community leader and with the support of her husband Rob Kornaherns, another leader in the world of Giving Back, she was appointed by Governor Rick Scott to the Broward Health Board of Commissioners. Does the phrase, "the apple doesn't fall far from the tree" apply here? She also has served on the Broward Health Foundation Board and on the Board of Junior Achievement. In 2016, Maureen, along with Debbie and Christian, were designated by the City of Lighthouse Point as "Keepers," a distinguished honor delegated to a very few individuals who have contributed to the growth and enhancement of the city and its history.
Debbie and Christian have not forgotten their vow to each other as well. In fact, this idea of civic responsibility has migrated to their spouses as well. Debbie and her husband Greg Edwards have given back in numerous ways. They both have focused their efforts on causes supporting children. Debbie served on the Board of the Children's Home Society as well as becoming its President, while Greg serves on Big Brothers – Big Sisters, along with serving on the Boards of the Youth Automotive Training Center, Lighthouse Christian School and Freedom Fighters Outdoors. Christian and his wife Coco serve the needs of the Lighthouse Point/Broward County Community by serving on the Marine Advisory Board of the City and County, the Lighthouse Point Recreation Committee, and the Annual 5K Run Event.
Today, we the citizens of Lighthouse Point, Broward County and beyond owe more than a debt of gratitude to this marvelous family. It is through their efforts in business and sharing of their time and treasure with our community that we enjoy an enhanced lifestyle. The strength of their commitment will live beyond their passing the gavel to others. They have provided us a better community in which to live and a special place to enrich our lives, foster relationships, and recreate. They gave us the there, there.