We're Going Back To The Essentials For
Summer 2020's Top Styles You'll Love
BOLD GOLD HOOPS
AND HUGGIES
One of our favorites is still going strong! Bold gold hoops and huggies are here to stay for the summer, the perfect accessory for that sun-kissed skin. Wear one pair alone or have a little fun layering up different sizes for a bolder look. You can even go for that 90's look with thicker huggies which are incredibly on trend.
We're absolutely loving this emerging trend and its versatility. Oblong paperclip style chains hit the market strong this year and it's the perfect summer look, coveted by celebrities and influencers. Paperclip necklaces are available in different lengths and thicknesses, allowing you to layer up a dainty choker or short 16" chain with longer lengths to personalize your look. Incredibly on-trend, have a little fun with this look all summer long.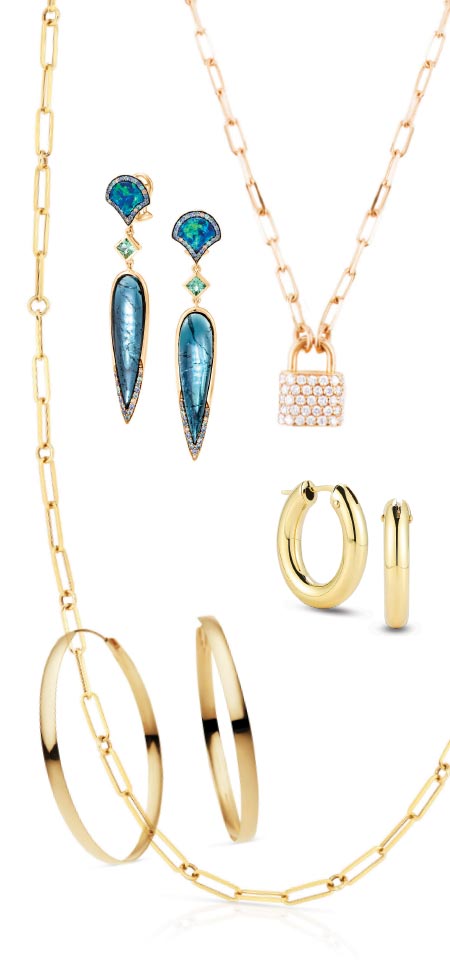 BOLD GEMSTONES
WITH A MEANING
Styles that hold a further meaning behind the gemstone, design, or symbol are coveted more than ever. You may be interested in learning the meaning behind gemstones. John Hardy's one-of-a-kind Cinta Collection highlights many different gemstones for symbolic reasoning.  For example, amethyst brings you peace, tranquility, and protection. Whereas gemstones like blue tourmaline bring past hurts to the surface, allowing for healing and freeing of the mind.
Other designers like Roberto Coin place gemstones strategically for a more subliminal message. Each piece of Roberto Coin features a ruby hidden on the inside of every piece, allowing the gem to kiss the skin as a secret gift of love and prosperity for anyone wearing his pieces.
AN UPDATED
TENNIS BRACELET
A forever classic that will never go out of style. Tennis bracelets are getting some modern updates with different silhouettes by designers like Carbon & Hyde. Wear one for an elegant night out or layer up to dress up your weekend casual look.